Residential Shade Sails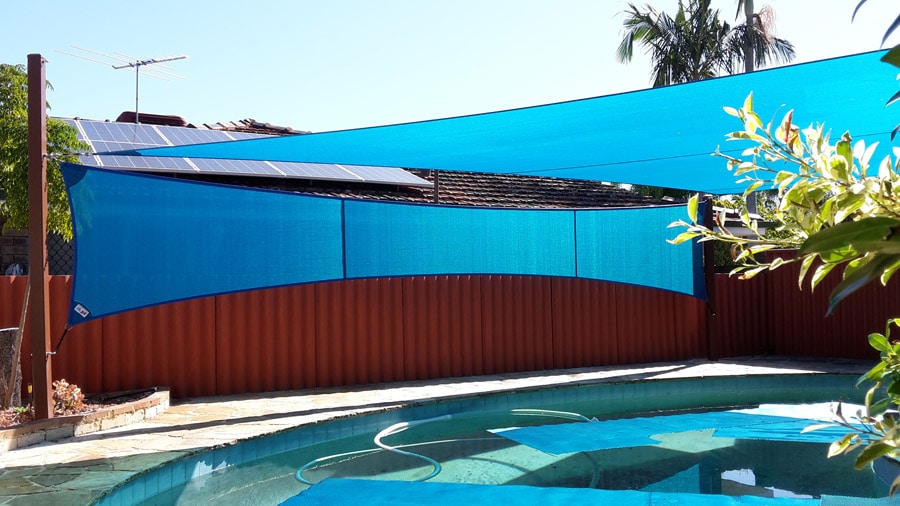 Stuart Bell Sails have been providing residential shade sail solutions for Western Australians since 1985. Our team of Experienced designers innovate customised sails to suit every house type regardless of your home's shape, colour or location.
Our knowledge and expertise in residential Shade Sail Creation, Installation and Maintenance has made us one of W.A's leading Shade Sail Solution providers. We use high quality, long lasting materials that are manufactured for durability and purpose as well as being aesthetically pleasing – adding an attractive visual feature to existing structures. We have been recognised for our craftsmanship, willingness to adapt to difficult, space restricted areas as well as consistent communication and project updates. We understand the importance of a safe home and we take pride in offering shade solutions to protect your family from harsh UV Rays that we receive annually with Australian Summers. Protect your family and create a safe outdoor area for them with a Shade Sail from Stuart Bell.
Our Aim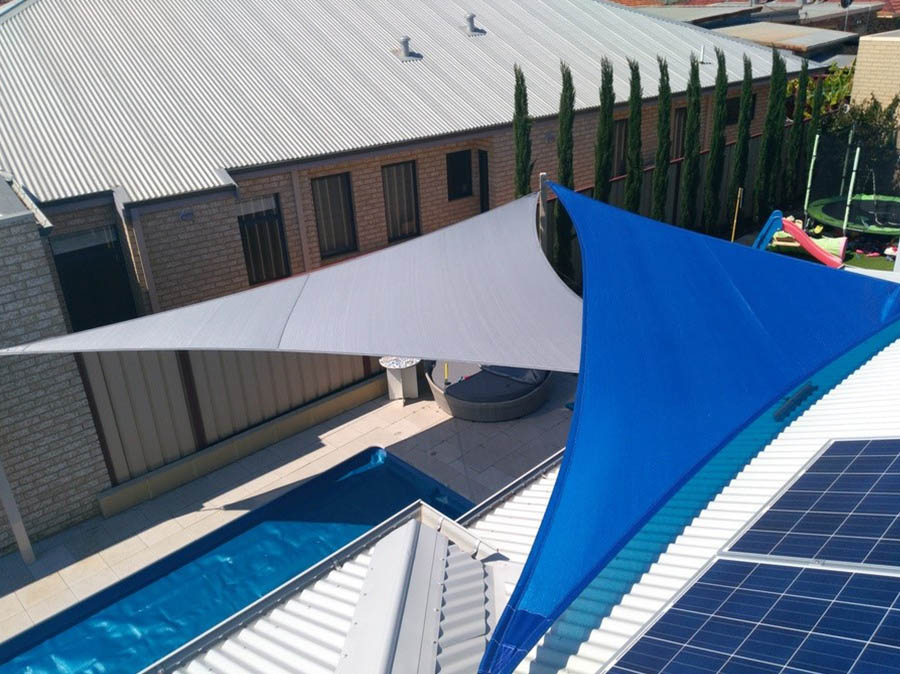 To complete each project on time and on budget. We understand your home is a place of privacy and comfort. We construct your new Shade Sail Solution in a timely and professional manner so that you and your family can enjoy quality time under the safety of our Shade Solution. Our team leaves every project area clean and as it was before – with an added bonus, a unique Shade Sail Solution fit for purpose and ready for use. We understand the importance of shade in specific areas and why shade is sometimes required, with over 40 different colours to choose from and various styles we are sure to have the perfect option available for you.
The Importance of Shade for your Family's Health.
Australia's Summer High temperatures – On average up to 35 °C (Direct Rays).
Australia receives more than 15% more of UV Rays than any European Country during our Summer period.
UV Rays are known to cause: Skin Cancer, Premature Aging of Skin, Cataracts / Eye Sight Damage, Immune System Suppression.
Carport Shade Sails
Carport Shade Sails are a stylish way to provide secure sun protection for your vehicles outside of your home. With Stuart Bell Carport Shade Sails, your car, truck or caravan will reside under a shaded area, protected from harmful sun rays that inflict damage upon vehicles when in direct exposure to the sun. Our Carport Shade Sails provide comprehensive protection from nature's elements including sun and rain. Carport Shade Sails will also protect your vehicle from leaves, debris, and bird poo.
Each Carport Shade Sail we make is custom-made to maximise shade for your valuable motor car.
Garden Shade Sails
Garden Shade Sails provide a multifunctioning garden space, protected from Australia's harshest sunny days. Stuart Bell Sails create aesthetically pleasing Garden Shade Sails that compliment any garden space by incorporating a variety of shade sail styles and by considering the functionality of the space as a core driver in the design phase. Our Garden Shade Sails are an innovative way to extend the shade from your home into your outdoor space, whilst at the same time shading valuable plants from the harsh sun. Garden Shade Sails allow us to enjoy our outdoor area, whether it be dining with friends or simply chilling out after a hard day's work
Pool Shade Sails
Pool Shade Sails provide shaded protection for pool users, without draining the sunlight from the area. Stuart Bell Sails understand the harmful effects of the sun, especially in water-based environments Providing sun protection for your family in your garden pool space will inevitably protecting them while they enjoy their swimming experience. Swimming Pool Shade Sails are the most comprehensive way to provide shade cover for a swimming pool. Our Swimming Pool Shade Sail designs are easily adapted to your swimming pool size and location. Create a safe swimming zone with a Stuart Bell Sails Swimming Pool Shade Sails.
Backyard Shade Sails
Backyard Shade Sails create a desired space of shade in your backyard area. Often, Stuart Bell Backyard Shade Sails are implemented to create an outdoor dining space, creating an alfresco dining area with minimal costs. Our team actively generates custom-made shade sails across a variety of applications. We also envisage and offer our recommendation on how to get the most out of your space through the use of a Backyard Shade Sail. Our Backyard Shade Sails provide a contemporary piece of architecture, designed to be effective in providing comprehensive sun protection. Considering a Backyard Shade Sail, but unsure of your options? Contact our team today, we love to help our customers to create the perfect shade sail for their requirements.
Patio Shade Sails
Shade Sails are often used to create an extended outdoor dining space alongside the home patio. Depending on the layout of the home shade sails reduce direct glare into the patio area. Our Patio Shade Sails are professionally designed to reduce this glare and increase comfort levels. Perfect for outdoor dining with your family and friends during warm summer months.
PREVIOUS RESIDENTIAL SHADE SAIL PROJECTS
Bibra Lake Hyper Shade Sail
Yangebup Pool Shade Sails
Morley Courtyard Shade Sail
Perth Sunlight Reflection Block
CONTACT US TODAY
For more information or to request an estimate for service, contact our professional shade sail consultant.