Shade Sail Repair & Maintenance
Already have an existing Shade Sail that just needs a repair?
Stuart Bell Sails offer a "Repair Your Sail' option, which comes at the fraction of the price of buying a new Shade Sail Solution. Our team has completed hundreds of Sail Repairs over the past 35 years of business, we are experts in shade sail solutions – including repairs.
We offer 2 options to repair your Shade Sail.
1: You dismantle your sail from the structural fixings and bring it to our warehouse in Willeton. We repair it, you Collect it and Reinstall it to your fixings yourself.
OR
2: We come to you, take down your damaged sail. Repair it at our warehouse and reinstall your repaired sail.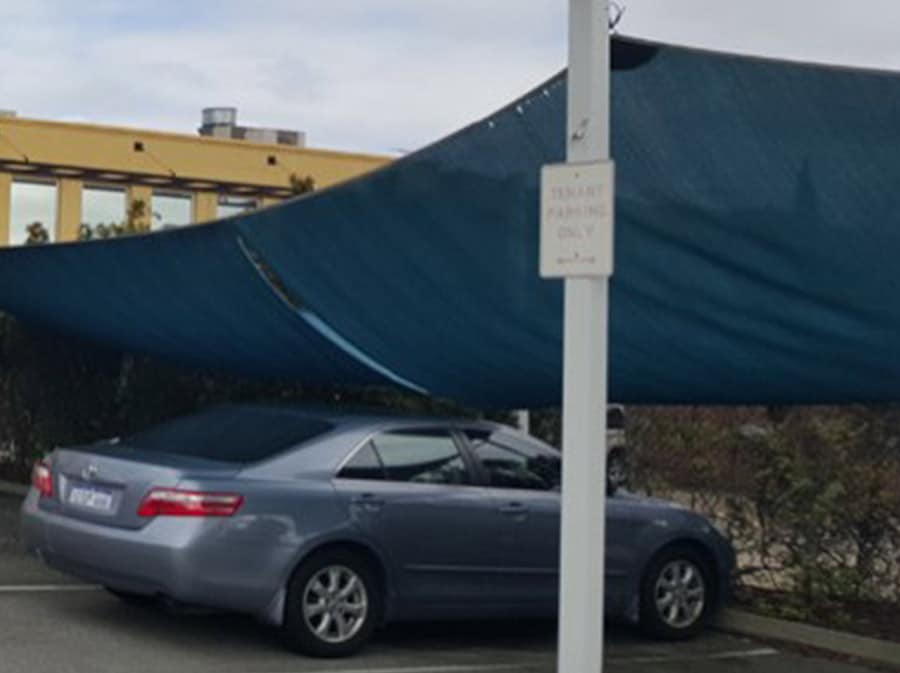 Common Types of Shade Sail Repair and Restoration
Generally Shade Sails begin to need minor repairs after 8/9 years of installation. After this time period sails become weaker from wear and tear, harsh weather conditions, debris falling on them and other common ways your sails become damaged. This is normal after the given period of time. In this situation we offer a repair/maintenance service to repair your sail back to its given function. We re-stitch and restore sails back to their best look, saving you the time and money of purchasing a new shade solution. The most common tears of sails are done so by stormy conditions leading to tree branches brushing and cutting the sails harshly.
Most commonly when the thread has become rotted due to the continuous exposure to intense UV Rays and Direct Sun Rays.
The fact that the Sun does such damage to the thread over this time period is alarming when considering the damage it could possibly do to your skin. However an 8/9 year period of intense and constant sun shows how durable the thread of our cloth really is.
Once this thread breaks down, the presence of strong winds force pressure on the seams and edges of your sail causing the webbed edges to give away and the middle seams to rip. On Wire Sails, once the sewn seams on the cloth edge rip, the wire pulls through the sail fabric and creates a drag down.
Our Shade Sail Repairs Solution:
Resew all seams and sleeves back to new. After this process your Shade Sail will be strong and durable for many years to come.
We encourage all Shade Sail owners to annually check your sails strength and explore it for rips. Early intervention will reduce our repair time.
Wire Tension Loss, Tree Brushing & Attachment Loss
Wire sails are formed and based on wire tension throughout the fabric. Common problems occur when the fabric is exposed to strong winds and tree branch brushing. This wire then rips the fabrics edge and reveals the tension wire underneath. This creates a poor looking sail. Issues like the above stated can normally be repaired by a patch or new sleeve stitch.
Attachment Loss is the process by which your Shade Sail has become disconnected from its supporting "D" ring attachments, leaving your sail to flap in strong winds. In this instance, these attachments then need to be reattached with new webbing and sewn in vertical lines down the webbing. This will once again strengthen your sail and implement the required tension in order to hold your Shade Sail in place.
Shade Sail Cleaning & Maintenance
Over time, you may find that your shade sail has become dirty, discoloured or grubby looking, taking away it's aesthetic appeal. In this situation your sail will need to be cleaned. We strongly encourage each of our customers to use our stated below "Cleaning Process".
In ignorance of our suggested compliance in cleaning you may find your sail chemically damaged. It is inevitable that your sail will become dirty over a number of months or years due to its constant exposure to the Sun, Wind and Rain. It will no doubt have caught dirt, dead leaves or debris that will have built up while protecting your shaded area. We advise removing this accumulation of debris safely before proceeding with our cleaning process. We strongly advised against the use of: Harsh Chemicals, Bleach, Sulphur or Halogen Based Chemicals or any chemical with Pesticide Components or Metal Oxides.
Most of the time, rainwater will naturally clean your sail, but removal of debris and dead leaves is always crucial.
These stated chemicals may:
Damage your Sail's UV Stabilisers.
Deteriorate the Fabric of your Sail.
Void your Sail's Warranty.
Reduce the Quality of your Sail.
Cleaning Process
Mix Sugar Soap & Water – Spray Over the Sail.
Next, Leave the Sail to Soak for about 10 minutes.
Finish by Rinsing your Sail with your garden hose, hosing off all residue.
To make life easier for you, we install high-quality Residential and Commercial Shade Sails efficiently and professionally, serving all suburbs across Perth. Our fast, reliable and affordable installation service means that your new shade sail is sure to be stable and properly constructed, providing maximum safety and protection. Not only that, but we'll give you a Free Consultation, measure and quote on all jobs. It's never been so easy!
Shade Sail Uninstall & Reinstall Service Available
CONTACT US TODAY
For more information or to request an estimate for service, contact our professional shade sail consultant.