Our Shade Sail Styles
Shade Sail requirements vary depending on the following;
Where the Shade Sail is being Installed.
For what purpose.
Your preference of Shade Sail Style.
Your Budget.
Our Materials
Every Shade Sail we provide is made from commercial grade cloth, made to Australian Standards. All panels and seams are sewn with Tenara Thread – The best quality thread in the industry. Tenara Thread has a life expectancy of 15 years. You will not have to resew your sail within this 15-year period. Which is backed by a 15-year warranty for complete peace of mind.
Every corner of each sail has two layers of cloth providing support in the highest load areas of our sails. All sails are double stitched around all edges and seams. "D" rings on each corner of the sail are sewn into the sail with high grade 50mm seatbelt webbing for maximum strength. Each sail we provide is designed with leading Computer Aided Design Technologies, providing perfection in every aspect of the sail.
We have an extensive range of design ideas garnered through years of experience, to develop a design that will maximise shade and be aesthetically pleasing. Our experienced tradesmen and installers understand the importance of structural integrity as well as great design.
UV Protection
Each fabric we use holds UV Inhibitors and are manufactured in factories that specialise in Shade Cloth production. Our suppliers conform with the Australian Standards to produce the highest quality of cloth. Cloth testing is available on request to view. Our cloth range provides up to 40 different colours to choose from.
Our Shade Sail Styles include
Our 4 Post Stand Alone with a Twist.
This style is one of our popular dual functioning Shade Sails
Easy Water Runoff.
Shade Protection across uneven areas.
Unique Look – Due to the difference in the height of the diagonal posts.
Adds Character to your outdoor space.
Suited Areas: Pool Coverage, Entertainment Area, Carport etc.
Our 2 Post & 2 Wall Fitting Sail
Reduce your post requirements with this clever wall/post hosting Sail Style. Utilising the structure of the house and two posts, this sail can also be created with a unique twist for further aesthetic qualities.
Easy Water Runoff.
UV Protection.
Extension of your Home.
Suited Areas: Pool Coverage, Entertainment Area, Carport etc.
Our 2 Post with Rope Track Attached to wall Sail
Where a complete block out of the sun is required, rope track is the perfect solution. This style has a nice neat finish with two posts at different heights to allow water runoff hassle free.
Complete Sun Blockout.
Extension of Your Home.
Nice clean neat finish.
Suited Areas: Entertainment Area, Carport, Decking Coverage etc.
Our Wall & Roof Fixings
In sites where floor space is limited, we need to be creative in finding fixing points that will be strong enough to hold a Shade Sail being uplifted in windy conditions. Our experienced and innovative team will always find a solution. Recent projects have seen us anchor attachments to a brick wall and support beams on the main structure of the building.
Difficult to Fit & Space Restricted.
UV/Sun Protection.
To Extend Roof's Shade cover.
Suited Areas: Market Areas, Pool Coverage, Entertainment Area etc.
Post & Tin Roof Attached
It is important to utilise the structure of a house to create Shade Sails that are aesthetically pleasing while in conjunction with the existing building. By raising and lowering the sail at the same height across the four sails we created a consistent uniform look in these instances.
UV Protection.
Layered look.
Extension of your Home.
Overlapping sails.
Suited Areas: Entertainment Area, Patio, Decking, Gardening Area etc.
Shade Sail Over Cars
This Large Sail with 5 posts, 3 high posts and 2 low posts allows water runoff avoiding raining from hitting your car. Wire sewn into the perimeter of the sail pulls the edges tight ensuring strength. It is important on large sails to have poles with wider diameters and greater wall thickness. This Sail also required concrete footings excavated to our Engineer's specifications to prevent these poles flexing.
UV Protection.
Protection from Harsh Weather Conditions.
Perfect for Car, Van, Jeep or Small Truck Protection.
Suited Areas: Carports, Outdoor Market, Pool Coverage, Entertainment Area etc.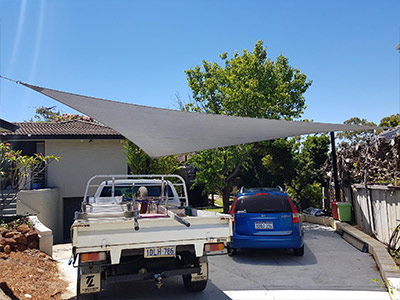 CONTACT US TODAY
For more information or to request an estimate for service, contact our professional shade sail consultant.